Flightgift Reviews Reached 10,000+ On Trustpilot
Fri August 11,2023
The number of Flightgift reviews has reached a new height! With over
10,000+ reviews
and an average ranking of 4.6 on Trustpilot, Flightgift has won the trust of many travelers worldwide. Regarding gifting unforgettable flight experiences, Flightgift is undoubtedly the best platform to do so. Check out Matthew's experience with Flightgift:
Like Matthew, many others share the same positive experience. That's because we make it our mission to put smiles on our customers and give them the most seamless experience. With just over half a decade, we're spreading the joy of experience gifting wider
Flightgift's story
Flightgift was launched in 2017 by founders Loes Daniels and Jorik Schröder. They set out to make it easier to buy and send memorable gifts worldwide. Originating from the kitchen table, Flightgift today has turned into an
award-winning concept
, popular with customers worldwide. Since its conception, Flightgift has continually improved its partnerships with airlines and operation scope. Today, the company has offices in Amsterdam, Athens, New York, and London. Despite the growth, the core Flightgift mission remains unchanged: Delighting people with the unforgettable gift of a flight experience.
Create your gift certificate hassle-free
We prioritize your experience above all. That's why as a company, Flightgift works tirelessly to create a smooth customer experience in all aspects. Flightgift offers 3 types of gifts to fit your needs. Do you need to impress someone with a gift worthy of the Hall of Fame in their house? Opt for a unique physical gift card in the shape of an airplane ticket. We deliver our physical gift cards worldwide. Get it delivered directly to your recipient's address or yours so that you can surprise them later! Do you need a thoughtful gift instantly? Select our eGift or printable PDF options. After purchase, we will send your order to your email inbox or that of your recipient. You also have the option to personalize your Flightgift gift card. Choose a value for your gift card from $25 to $10,000 in one of our 15 available currencies. Add a photo from our collection, or upload one of your own. Then, write a message for the lucky recipient. That's it! You have created the perfect flight gift.
Redeeming your Flightgift gift card
Another winning aspect of Flightgift is the ease of redeeming it. We've designed our redeeming portal to reflect the steps you would go though when booking a flight from another site - only faster. Customers can visit our Redeem page, choose their flight, enter their information, and check out with the gift card code. Simple as that. Check out some of the positive Flightgift reviews we've received about our booking process.
Laura: It is very easy to book the flights. You just need to insert your personal code, and the game is done! It has been one of the best gifts I have ever received!
Sara J.: Redeeming the gift card for a flight was such as easy process. There were many flights/destinations to choose from and the checkout process was super easy.
Anton A.: SImple, painless search function and selection process. The site is intuitive and quick to use!
The Flightgift reviews about our customer service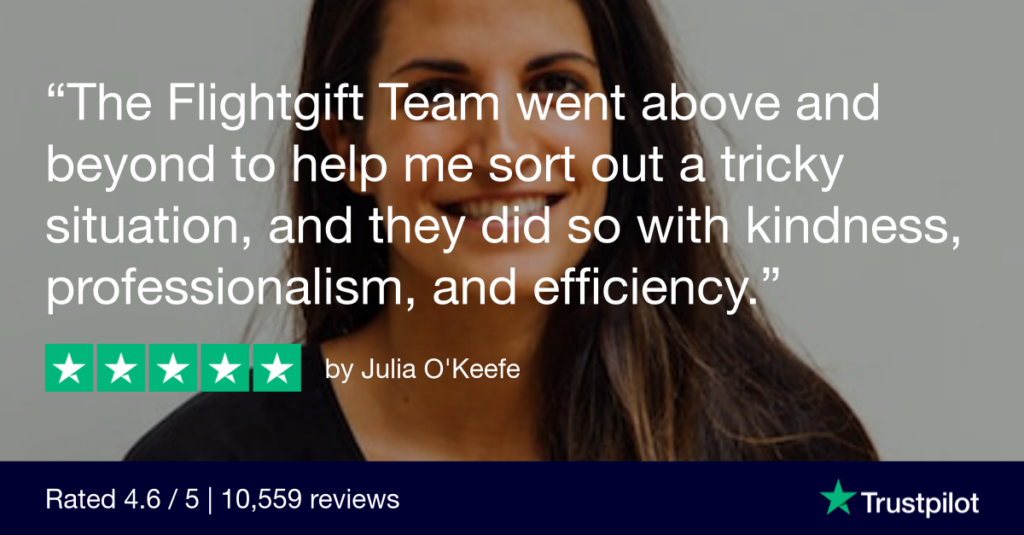 Flightgift's customer service
is more than just a service - an unparalleled experience! Our passion for service excellence knows no bounds, and that's why we're available 24/7 to answer all of your questions and concerns. We understand that your flight experience is special, and we're here to ensure that every interaction you have with Flightgift is just as exceptional. Whether you need information about our services, want assistance redeeming your gift, or just want to clarify a small issue. Our team is responsive within hours to ensure you have the best experience possible. Trust us, your smile is our biggest success!
What is your Flightgift review?
Your journey starts here, and we want it to be unforgettable! If you've already experienced the adventure of a Flightgift gift card, why not share your experience with us here? Your review is invaluable not only to us, but to others who crave unforgettable experiences. And here's another great news: for every gift certificate purchased and redeemed, we plant a tree with Eden Reforestation Projects to give back to our environment. Together, we're creating memories and helping to
make our planet greener
and more vibrant. Your vote counts, so let us know how your Flightgift adventure was.